Hello There, I'm Katie,

That crooked smile? That's my natural smirk because I'm about to eat reindeer over mashed potatoes, or green chile stew, or ice cream with sriracha, because I can! I'm a native New Mexican that now calls Washington state home. I grew up with a mother that cooked fermented black-bean short-ribs for my birthday dinner (my request). When I got a cold, I was fed kimchi. Now my children request my homemade butter chicken for their birthday dinners every year, and I take pride in the fact that my husband likes African peanut soup (don't tell him it's vegan). Some days I eat responsibly, and some days I just eat for enjoyment and sheer entertainment. I think often of the food insecurity of others, and am passionate about sharing. I genuinely believe that there is enough food for all, our responsibility is to figure out how to make it equitable.
Powered by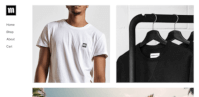 Create your own unique website with customizable templates.